Faith Formation: Children, Ages: 4 - 12
The children meet every Wednesday evening at St. Mary's Center from 6 - 7:30 pm to learn their Catholic faith. They will grow in love and appreciation of the Gospel of Jesus Christ, His Church, the Seven Sacraments and the traditions of our faith.
Thank you for your participation and for your support of our efforts with the children. As a parish we all share in the responsibility to pray for and support our children in their faith journey.
Bus transportation from Croswell, and Lexington to Port Sanilac will be provided every week by Sanilac Transportation Company.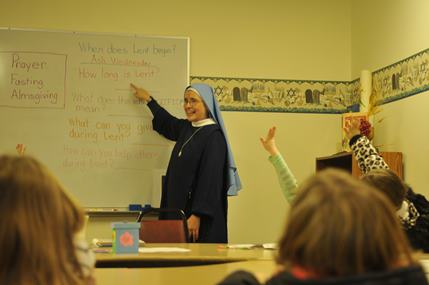 ---
FAITH FORMATION REGISTRATION
It is that time a year again to start planning for our Faith Formation Program.
If you wish to enroll for the first time either a Pre-Kindergarten (4 1/2 yrs. Old) or K-12th child/teen in Ave Maria Parish Faith Formation Classes, contact Sr. Mary Teresita.
Please send an e-mail to : This email address is being protected from spambots. You need JavaScript enabled to view it. or leave a Message at (810) 622-9904 Ext. 3. Thank you!