Faith Formation: Children, Ages: 4 - 12
The children meet every Wednesday evening at St. Mary's Center from 6 - 7:30 pm to learn their Catholic faith. They will grow in love and appreciation of the Gospel of Jesus Christ, His Church, the Seven Sacraments and the traditions of our faith.
Thank you for your participation and for your support of our efforts with the children. As a parish we all share in the responsibility to pray for and support our children in their faith journey.
Bus transportation from Croswell, and Lexington to Port Sanilac will be provided every week by Sanilac Transportation Company.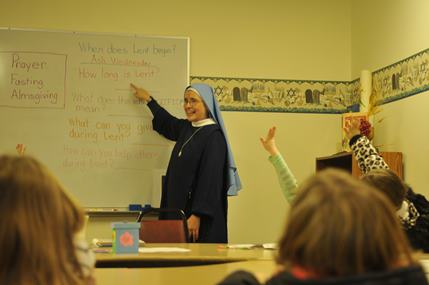 ---
Faith Formation
New Year: October, 2020 - May, 2021
---
WHO WROTE THAT SONG?
How many of you remember Bring Flowers of the Rarest, the "Crowning Hymn" which was traditionally sung during the May crowning of the statue of the Virgin Mary?
Until about a decade ago, this particular Marian hymn was listed as "anonymous" or "traditional" since no one remembered or knew who composed it. They Hymn Society of America and a published authority on Catholic hymns led an investigation to uncover the author's name.
J. Vincent Higginson discovered that the song belonged to Mary E. Walsh, who was a student of the Sisters of Notre Dame. There is now evidence that as early as 1871, the hymn was published under the title "Crowning Hymn" in the Wreath of Mary Hymnal and later included in St. Basil's Hymnal in 1889.
Our Faith formation students have sung this hymn in the past during our final Faith Formation gathering for our May Crowning Devotions to the Blessed Virgin Mary. Indeed, it is a favorite Marian song during May!
Bring flow'rs of the fairest, Bring flow'rs of the rarest,From garden and woodlandAnd hillside and vale;Our full hearts are swelling, Our glad voices telling The praise of the loveliest Rose of the Vale.O Mary! We crown thee with blossoms today, Queen of the Angels, Queen of the May ,O Mary! We crown thee with blossoms today, Queen of the Angels, Queen of the May.
---
---