Faith Formation: Children, Ages: 4 - 12
The children meet every Wednesday evening at St. Mary's Center from 6 - 7:30 pm to learn their Catholic faith. They will grow in love and appreciation of the Gospel of Jesus Christ, His Church, the Seven Sacraments and the traditions of our faith.
Thank you for your participation and for your support of our efforts with the children. As a parish we all share in the responsibility to pray for and support our children in their faith journey.
Bus transportation from Croswell, and Lexington to Port Sanilac will be provided every week by Sanilac Transportation Company.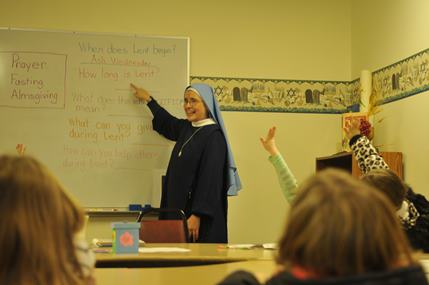 ---
Faith Formation
---
Make Us Living Signs.....
In our final class in preparation for the Sacrament of Penance and Reconciliation, the children and parents reflected on the gift of peace, one of the effects of this sacrament. "Make us living signs of your love for the whole world to see." Rite of Penance. When we show love and kindness as Jesus did, we can spread peace and goodwill. The peace of Jesus in our hearts can have a "ripple effect" - it begins in our heart but spreads to others through our words and actions. The inspirational prayer of St. Francis, "Lord, make me an instrument of your peace…" Beautifully outlines how as followers of Jesus, each of us can be a living sign of peace and love to others. At the end of every celebration of the Sacrament of Penance and Reconciliation, the priest prays the same words as at the end of Mass: "Go in peace…" Jesus knew that it would not be easy for us to always live as peacemakers. It would not be easy for us to forgive and ask for forgiveness. Jesus asked God the Father to send us a Helper; Our Helper is the Holy Spirit. The Holy Spirit guides our minds and hearts in the way of God's love and helps us to spread his love and peace to others, as Jesus did. For reflection: How do your bring peace and joy to family and friends?