Faith Formation: Children, Ages: 4 - 12
The children meet every Wednesday evening at St. Mary's Center from 6 - 7:30 pm to learn their Catholic faith. They will grow in love and appreciation of the Gospel of Jesus Christ, His Church, the Seven Sacraments and the traditions of our faith.
Thank you for your participation and for your support of our efforts with the children. As a parish we all share in the responsibility to pray for and support our children in their faith journey.
Bus transportation from Croswell, and Lexington to Port Sanilac will be provided every week by Sanilac Transportation Company.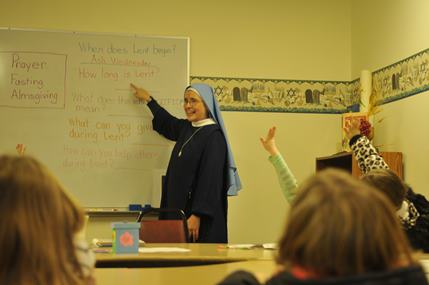 ---
Faith Formation
New Year: September, 2019 - May, 2020
"Let the children come to me...for to such belongs the Kingdom of God." (Luke 18:16)
Ave Maria Faith-Formation is off to a great start with 40 enrolled students from Pre-K/Kindergarten—6th Grade and 13 teens in Youth Group. In our Pre-K/Kindergarten classroom we have seven lively, energetic and delightful little ones—three girls and four boys! Our former Kindergarten teacher, Mrs. Cheryl O'Mara has passed the torch on to Mrs. Pam Herrmann. Pam has been an assistant catechist for the past two years in 5th & 6th Grade and 2nd Grade. She will be assisted by Mrs Lollie Celeskey, who has helped out in the Kindergarten classroom for the past several years.
A heartfelt thank you to Cheryl O'Mara for her many years of devoted service and commitment as a volunteer catechist at Ave Maria Parish. She will be missed! Her dedication, creativity and ability to teach the Catholic Faith in simple ways, helped her Kindergartners to grow in their knowledge and love for God. May God continue to bless Cheryl as she pursues her new work with children.
First Sunday of Advent:
MADE FOR GOD AND EACH OTHER
During our first sacramental class we discussed how we are made in God's Image. God is our Creator. He made us to be in relationship with Him and others. He has a purpose for each of us. God made us out of love. We are free to choose to love Him back. "God loves each of us as if there were only one of us." St. Augustine. Being made in God's image also means we are given "free will" to make choices. When we choose to disobey God on purpose and do what we know is wrong, we SIN. We use God's gift of free will to choose against His love. SIN changes our relationships, the world, and us. However, God's love never changes. God offers us his love, help and forgiveness through the Sacrament of Penance.
Reflection: When was the last time you participated in the Sacrament of penance and Reconciliation and experienced the power of God's forgiveness and love?