Faith Formation: Children, Ages: 4 - 12
The children meet every Wednesday evening at St. Mary's Center from 6 - 7:30 pm to learn their Catholic faith. They will grow in love and appreciation of the Gospel of Jesus Christ, His Church, the Seven Sacraments and the traditions of our faith.
Thank you for your participation and for your support of our efforts with the children. As a parish we all share in the responsibility to pray for and support our children in their faith journey.
Bus transportation from Croswell, and Lexington to Port Sanilac will be provided every week by Sanilac Transportation Company.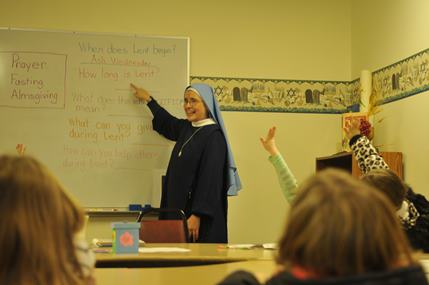 ---
New Year: 2017-2018 for Faith Formation
CELEBRATING THE SAINTS
All Saint's Day is one of the beautiful feast days we celebrate during the fall season. Its celebration engages children, teens and adults in the festive custom of dressing up like their favorite saints and sharing their inspiring stories. Among the many saints represented this year were St. Juan Diego, St. Augustine, St. Blandina, newly canonized St. Jacinta Marto, St. Francis of Assisi, St. Patrick, St. Teresa of Calcutta, St. Elizabeth and St. Thomas, plus many more! As the Youth Group presented their saints, they gave the children "spiritual treats" to put in their "trick or treat bags," anything from holy cards, medals, finger rosaries, statues, and of course candy! After each trio of Saints, the Guardian Angel led the "little saints" in procession around the room while singing, "Oh when the saints, go marching in.." The adults enjoyed watching the children's procession. I'm sure Our heavenly Friends must have joined in the procession in their honor! Afterwards, we all enjoyed the yummy treats and finger food provided by our wonderful parents and adults. Thank you for helping us to make this evening one of fun and inspiration for everyone!