Faith Formation: Children, Ages: 4 - 12
The children meet every Wednesday evening at St. Mary's Center from 6 - 7:30 pm to learn their Catholic faith. They will grow in love and appreciation of the Gospel of Jesus Christ, His Church, the Seven Sacraments and the traditions of our faith.
Thank you for your participation and for your support of our efforts with the children. As a parish we all share in the responsibility to pray for and support our children in their faith journey.
Bus transportation from Croswell, and Lexington to Port Sanilac will be provided every week by Sanilac Transportation Company.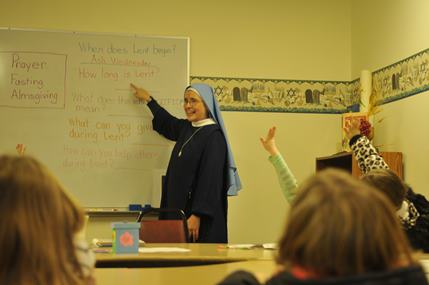 ---
New Year: 2017-2018 for Faith Formation
Special Blessing of Pets
Since the feast of St. Francis of Assisi falls on a Wednesday this year, Father Eppenbrock will have a special blessing for animals at 6PM on October 4th at St. Mary's. This will take place at the beginning of Faith Formation outside the Parish Center. Bring your pets!
St. Francis traveled the countryside and proclaimed God's love to everyone. He emphasized the fact that we are all sisters and brothers in the Lord, that is why he called himself "Brother Francis." He showed great compassion for the poor and the sick. Often statues or pictures of St. Francis show animals around him or a bird perched on his shoulder.
This holy man of God loved animals and nature and sang praises to the Lord for the gifts of creation. "Be praised, my Lord, for all Your creatures, and first for brother sun, who makes the day bright and luminous…" (Canticle of the Sun by St. Francis of Assisi) Let us ask St. Francis to help us put God first in our lives and live the Gospel. Help us to treat other people as our brothers and sisters in Christ. Make us aware of the need to care for the earth. St. Francis of Assisi pray for us!