Faith Formation: Children, Ages: 4 - 12
The children meet every Wednesday evening at St. Mary's Center from 6 - 7:30 pm to learn their Catholic faith. They will grow in love and appreciation of the Gospel of Jesus Christ, His Church, the Seven Sacraments and the traditions of our faith.
Thank you for your participation and for your support of our efforts with the children. As a parish we all share in the responsibility to pray for and support our children in their faith journey.
Bus transportation from Croswell, and Lexington to Port Sanilac will be provided every week by Sanilac Transportation Company.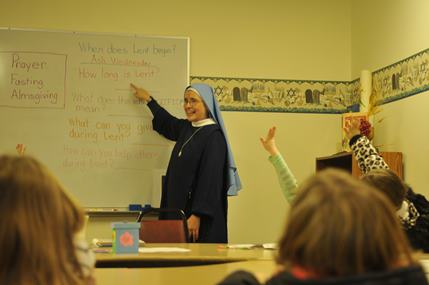 ---
New Year: 2017-2018 for Faith Formation
---
Gathering to Give Thanks and Praise
During our second Sacramental Preparation class, the children and their parents reflected on our call to worship God on the Lord's Day and the Introductory Rites of the Mass. Through our Baptism we are connected to Jesus and his Church. When we gather with our parish family at Mass, we share and celebrate our love of God. The celebration of the "Eucharist" is also called "the Mass," which is the greatest prayer of thanksgiving and the center of the Church's life. To worship means to give "thanks and praise" to God. Because Jesus rose from the dead on Easter Sunday, we gather with our parish to celebrate the Mass on Sundays, "the Lord's Day." The celebration of the Lord's Day is from Saturday evening through Sunday until midnight. The Introductory Rites of the Mass prepare us to listen to the Word of God and celebrate the Eucharist. The children acted out the Introductory Rites with the opening procession, sign of the cross, greeting, silently thinking of our sins, praying "Lord have mercy...Glory to God and the opening prayer. These words, songs, and special movements and actions are ways that we give thanks and praise To God.