Faith Formation: Children, Ages: 4 - 12
The children meet every Wednesday evening at St. Mary's Center from 6 - 7:30 pm to learn their Catholic faith. They will grow in love and appreciation of the Gospel of Jesus Christ, His Church, the Seven Sacraments and the traditions of our faith.
Thank you for your participation and for your support of our efforts with the children. As a parish we all share in the responsibility to pray for and support our children in their faith journey.
Bus transportation from Croswell, and Lexington to Port Sanilac will be provided every week by Sanilac Transportation Company.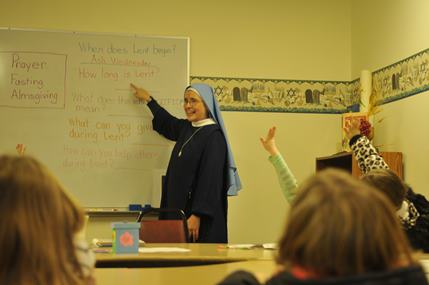 ---
Faith Formation
New Year: October, 2020 - May, 2021
"Let the children come to me...for to such belongs the Kingdom of God." (Luke 18:16)
We Begin on the Feast of Our Lady of the Rosary
Ave Maria Parish Faith Formation classes begin this Wednesday, October 7th at 6:00 p.m. at St. Mary's Center
Due to COVID-19 we are unable to kickoff the year with our annual "Meet and Greet" program. However, we are most grateful that our dedicated catechists and students can still come together to grow in their knowledge of the Faith and a deeper relationship with Christ and the Church. October 7th is also the feast of Our Lady of the Rosary. Let us implore Our Blessed Mother to watch over and guide us ever closer to Her Divine Son. Remember that the entire month of October is dedicated to Mary as Our Lady of the Rosary.
Let us not forget Mary's request at Fatima, to pray the rosary daily for world peace.
Sr. Mary Teresita, SMDG