Faith Formation: Children, Ages: 4 - 12
The children meet every Wednesday evening at St. Mary's Center from 6 - 7:30 pm to learn their Catholic faith. They will grow in love and appreciation of the Gospel of Jesus Christ, His Church, the Seven Sacraments and the traditions of our faith.
Thank you for your participation and for your support of our efforts with the children. As a parish we all share in the responsibility to pray for and support our children in their faith journey.
Bus transportation from Croswell, and Lexington to Port Sanilac will be provided every week by Sanilac Transportation Company.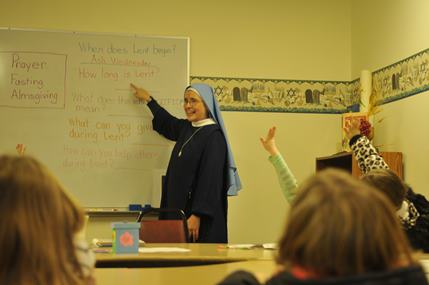 ---
Faith Formation
New Year: September, 2019 - May, 2020
"STAY WITH US!"
Last Sunday, Catechetical Sunday, Fr. Eppenbrock commissioned our Catechists in their important parish ministry at Ave Maria. A "Big Thank You" to our Catechists, for generously volunteering your time and service in our FaithFormation Program. This year's theme is "STAY WITH US".
Catechetical Sunday is a wonderful opportunity to reflect on the role that each person plays, by virtue of Baptism, in handing on the faith and being a witness to the Gospel. Catechetical Sunday is an opportunity for all to rededicate themselves to this mission as a community of faith. Pope Saint Paul VI taught that "evangelization is in fact the grace and vocation proper to the Church, her deepest identity. She exists in order to evangelize." The Holy Father further wrote, "Techniques of evangelization are good, but even the most advanced ones could not replace the gentle action of the Spirit. The most perfect preparation of the evangelizer has no effect without the Holy Spirit. Without the Holy Spirit the most convincing dialectic has no power over the heart of man...We live in the Church at a privileged moment of the Spirit."
For Reflection: Am I fulfilling my Baptismal call to "hand on the Faith" as a Witness for Christ?