Faith Formation: Children, Ages: 4 - 12
The children meet every Wednesday evening at St. Mary's Center from 6 - 7:30 pm to learn their Catholic faith. They will grow in love and appreciation of the Gospel of Jesus Christ, His Church, the Seven Sacraments and the traditions of our faith.
Thank you for your participation and for your support of our efforts with the children. As a parish we all share in the responsibility to pray for and support our children in their faith journey.
Bus transportation from Croswell, and Lexington to Port Sanilac will be provided every week by Sanilac Transportation Company.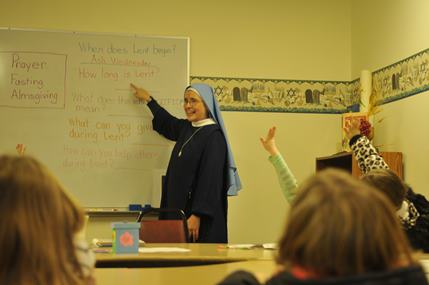 ---
Faith Formation
New Year: October, 2020 - May, 2021
"Let the children come to me...for to such belongs the Kingdom of God." (Luke 18:16)
We Begin on the Feast of Our Lady of the Rosary
Ave Maria Parish Faith Formation classes begin this Wednesday, October 7th at 6:00 p.m. at St. Mary's Center
Due to COVID-19 we are unable to kickoff the year with our annual "Meet and Greet" program. (See letter to Parents below) However, we are most grateful that our dedicated catechists and students can still come together to grow in their knowledge of the Faith and a deeper relationship with Christ and the Church. October 7th is also the feast of Our Lady of the Rosary. Let us implore Our Blessed Mother to watch over and guide us ever closer to Her Divine Son. Remember that the entire month of October is dedicated to Mary as Our Lady of the Rosary.
Let us not forget Mary's request at Fatima, to pray the rosary daily for world peace.
Sr. Mary Teresita, SMDG
---
September 16, 2020
Dear Parents,
As we begin our new Faith-Formation year I wish to share with you the safety precautions and adapted measures that will be in place as your child enters the building and attends class. Indeed COVID-19 has made daily life more difficult and complicated! Your child's safety and health is a priority as we gather together to grow in our knowledge and love of our Catholic Faith.
• All Faith-Formation participants and Catechists must wear a mask in the building (Unless a medical issue prevents the wearing of a mask) • Social distancing of 6 feet maintained in the classrooms • Hand sanitizers provided in classrooms and Entrance Hallway • Only snacks/ drinks that were pre-packaged provided.
When your child arrives before entering St. Mary Center: • COVID-19 Health Form filled out and given to Sr. Mary Teresita (Copies of form will be provided and possibly include an option to send completed forms electronically to me for your convenience) • Infrared Forehead Non-Touch Thermometer used to take each child's temperature, IF families have not done so that day • No gathering in the Entrance Hallway – students will go straight to their classrooms • At the end of class, students will go straight to their cars or the bus
Parents are asked to inform Sr. Mary Teresita or Sr. Maria Inviolata if their child's public school classroom has moved to a virtual environment due to a COVID-19 exposure. If it is a confirmed case of COVID-19, that particular Faith-Formation class would also move to a virtual approach as well, until able to return to "in person Faith-Formation" according to local health department guidelines. All families will be notified of any confirmed Covid19 case.
Please do not hesitate to contact me with any questions or concerns.
God bless you and your family,
Sr. Mary Teresita, SMDG
---