Faith Formation: Children, Ages: 4 - 12
The children meet every Wednesday evening at St. Mary's Center from 6 - 7:30 pm to learn their Catholic faith. They will grow in love and appreciation of the Gospel of Jesus Christ, His Church, the Seven Sacraments and the traditions of our faith.
Thank you for your participation and for your support of our efforts with the children. As a parish we all share in the responsibility to pray for and support our children in their faith journey.
Bus transportation from Croswell, and Lexington to Port Sanilac will be provided every week by Sanilac Transportation Company.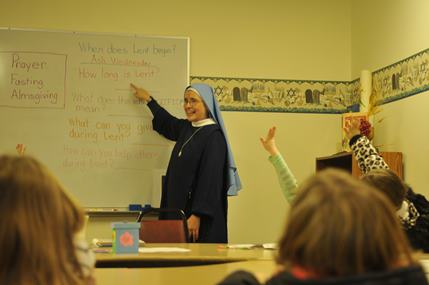 ---
The Liturgy
"Blessed are those called to the Supper of the Lamb"
The children preparing for Confirmation and Eucharist, with their parents, reflected on the Communion Rite during our last week's Sacramental Class. When we respond to Christ's invitation, we receive the greatest gift of love-Jesus, the Bread of Life. The Eucharist is the center of our Lives as Catholics. As the gathered assembly, we join in the Communion procession and sing the hymn as a sign of unity and joy. Before we receive the Body and Blood of Jesus we respond "Amen" to show that we believe Jesus is really present. Thank You, Jesus, for the gift of Yourself in Holy Communion!
For reflection: In what ways do I respond to Jesus' Invitation to the "supper of the Lamb"? Are my eyes opened to the wonder of Jesus' great gift of love?
Dates to Remember: Our Sacramental Preparation Class will celebrate Confirmation on May 13, 11 a.m. with Holy Family Parish in Sandusky.
The following day, May 14, the children will celebrate First Eucharist during the 10 a.m. Mass at St. Denis in Lexington.
Please remember our young people preparing for the sacraments in your prayers. Thank you!