Faith Formation: Children, Ages: 4 - 12
The children meet every Wednesday evening at St. Mary's Center from 6 - 7:30 pm to learn their Catholic faith. They will grow in love and appreciation of the Gospel of Jesus Christ, His Church, the Seven Sacraments and the traditions of our faith.
Thank you for your participation and for your support of our efforts with the children. As a parish we all share in the responsibility to pray for and support our children in their faith journey.
Bus transportation from Croswell, and Lexington to Port Sanilac will be provided every week by Sanilac Transportation Company.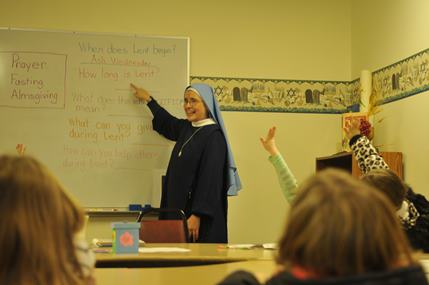 ---
Faith Formation
---
"COME LORD JESUS!"
Last week our catechists and students prepared for the upcoming season of Advent, the beginning of the Church's liturgical year. Advent is a time to direct our hearts and minds to the joyful expectation of Christ's Coming. It is a season of preparation, waiting and anticipation. We ready ourselves to celebrate the coming of Jesus Christ in two ways—by recalling His historical birth over 2,000 years ago, and by looking ahead to His second coming. Several catechists had their students make their own Advent wreaths. Pictures of the Advent activities are posted on the Sisters of Our Mother of Divine Grace Facebook page. The students reviewed what the wreath symbolizes and what each candle means. Don't forget to incorporate the beautiful tradition of an Advent wreath in your home and let us rejoice in the coming of Jesus, our Savior!
For reflection: How are you using this season of Advent to prepare your heart to receive Christ at Christmas and deepen your relationship with God?