Faith Formation: Children, Ages: 4 - 12
The children meet every Wednesday evening at St. Mary's Center from 6 - 7:30 pm to learn their Catholic faith. They will grow in love and appreciation of the Gospel of Jesus Christ, His Church, the Seven Sacraments and the traditions of our faith.
Thank you for your participation and for your support of our efforts with the children. As a parish we all share in the responsibility to pray for and support our children in their faith journey.
Bus transportation from Croswell, and Lexington to Port Sanilac will be provided every week by Sanilac Transportation Company.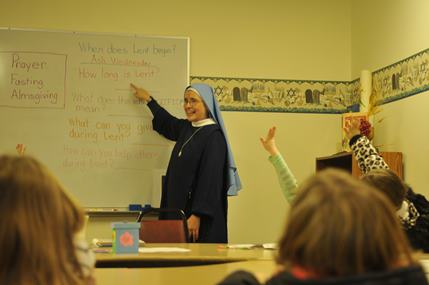 ---
Faith Formation
New Year: September, 2019 - May, 2020
"Let the children come to me...for to such belongs the Kingdom of God." (Luke 18:16)
Ave Maria Faith-Formation is off to a great start with 40 enrolled students from Pre-K/Kindergarten—6th Grade and 13 teens in Youth Group. In our Pre-K/Kindergarten classroom we have seven lively, energetic and delightful little ones—three girls and four boys! Our former Kindergarten teacher, Mrs. Cheryl O'Mara has passed the torch on to Mrs. Pam Herrmann. Pam has been an assistant catechist for the past two years in 5th & 6th Grade and 2nd Grade. She will be assisted by Mrs Lollie Celeskey, who has helped out in the Kindergarten classroom for the past several years.
A heartfelt thank you to Cheryl O'Mara for her many years of devoted service and commitment as a volunteer catechist at Ave Maria Parish. She will be missed! Her dedication, creativity and ability to teach the Catholic Faith in simple ways, helped her Kindergartners to grow in their knowledge and love for God. May God continue to bless Cheryl as she pursues her new work with children.
---
THE SELF-GIFT OF CHRIST'S LOVE ON THE ALTAR
During last week's Sacramental Preparation Class, the parents and children preparing for Confirmation and Eucharist reflected on the Liturgy of the Eucharist. At Mass our Church family gathers around the altar, which represents Christ Himself, who is both the priest offering the sacrifice and the sacrifice being offered. The altar or the table of sacrifice is also the table where we celebrate and receive the Body and Blood of Jesus. The altar reminds us that Jesus offered Himself as a sacrifice on the Cross to save us from sin so that we could live with God forever. During Mass we thank God for His self-gift, His sacrifice of love. In the Liturgy of the Eucharist the Paschal Mystery is made present; we remember Jesus's suffering. Death, Resurrection, and Ascension into heaven. At every Mass we are invited into the whole of Jesus' saving work. Mass is a celebration and a sacrifice.
For Reflection: Think of a sacrifice of love you can make to respond to Jesus' great sacrifice of love in the Eucharistic Celebration.
"The altar, on which is effected the Sacrifice of the Cross made Present under sacramental signs, is also the table of the Lord to which the People of God is convoked to participate in the Mass, and it is also the center of the thanksgiving that is accomplished through the Euchraist." (General Instruction of the Roman Missal #296)