Faith Formation: Children, Ages: 4 - 12
The children meet every Wednesday evening at St. Mary's Center from 6 - 7:30 pm to learn their Catholic faith. They will grow in love and appreciation of the Gospel of Jesus Christ, His Church, the Seven Sacraments and the traditions of our faith.
Thank you for your participation and for your support of our efforts with the children. As a parish we all share in the responsibility to pray for and support our children in their faith journey.
Bus transportation from Croswell, and Lexington to Port Sanilac will be provided every week by Sanilac Transportation Company.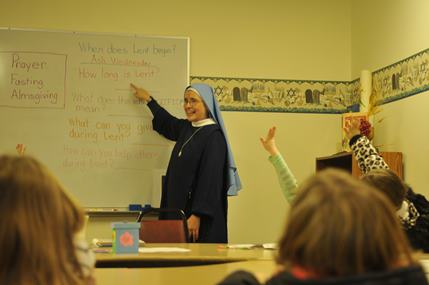 ---
---
A Big Thank You to all the Volunteers who Worked on Vacation Bible School This Year, 2021
Pray for volunteers that work with the kids . Pray for kids' lives to be impacted & that they would learn more about God at VBS . Thank you very much for donating and Sup-porting our parish Vacation Bi- ble School.
After this COVID-19 pandemic, we can all use some reminding that Jesus' Power Pulls Us Through!!!