History of Ave Maria Parish
On February 26, 1938, the Diocese of Saginaw was formed under the jurisdiction of the first bishop of Saginaw, Bishop Murphy. Bishop Murphy was succeeded by Bishop Woznicki, Bishop Reh, Bishop Untener, Bishop Carlson and on July 28, 2009, Bishop Cistone, our present bishop.
In the Fall of 2011, under the direction of Bishop Cistone, the Saginaw Diocese began self-evaluate our parishes to see how we could make them more viable and fruitful. This was done with one of the leading companies in the US, the Reid Group from Wisconsin. After a two-year intense study on January 18, 2013, it was announced that the three parishes of St. Denis in Lexington, St. Mary in Port Sanilac and St. Patrick in Croswell would be merged into one new parish.
Many questions arose. Why have parishes merge at all? Two basic reasons for the mergers throughout the Diocese are a lack of priests and a decline in attendance at Masses. Before July, 2013, there were 105 parishes in the Diocese and we will have 56 parishes by the year 2015. How does this impact Mass schedules? There will be fewer weekend Masses. No priest is to have more than three weekend Masses in the Diocese. To add on another Mass would need special permission by the Bishop. What about the church buildings? The church buildings retain their names because once a church is dedicated, we don't change its name.
And the question closest to home, what does this mean for us? On July 1, 2013, the three parishes of St. Denis in Lexington, St. Mary in Port Sanilac and St. Patrick in Croswell merge into one - Ave Maria Parish. It will be one parish with two worship centers: St. Denis in Lexington and St. Mary in Port Sanilac. St. Patrick in Croswell will have limited use, but not on a weekly basis. And even though we are worshiping in the same churches, the parishes of St. Denis, St. Mary and St. Patrick no longer exist. Another aspect of the merger is having a Pastoral Administrator and a Sacramental Priest. Sister Maria Inviolata, the Pastoral Administrator is acting as pastor. She is a member of the Sisters of Our Mother of Divine Grace, a new community in the Diocese who have their Motherhouse at St. Mary in Port Sanilac. Father Don Eppenbrock, the Sacramental Priest, will administer the sacraments and offer Mass.
This merger gives all of us an opportunity to get in on building a new parish, like the pioneers who settled here in Michigan and were the founding members of our churches. There will be challenges for all of us and there will be changes for all of us, but life is a series of changes and without change, we stand still and go nowhere.
History of St. Denis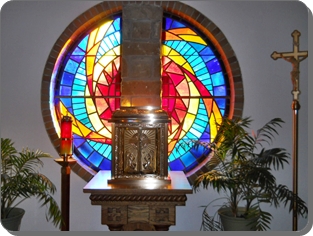 Father Fredrick Baraga came to the Thumb area of Michigan in 1854 to serve the Indians and newcomers. On more than one occasion in the two years he remained, Father Baraga offered Mass for them. Very few Catholics came to the forest settlement before 1850. In the next ten years or so, their number increased and priests had services in homes and public places.
In 1863, a piece of property was deeded to Biship LeFevre of Detroit, in the area of the present Pomeroy Funeral Home. The wagon shop on the property became the center of Catholic activities and was known as Immaculate Conception Church. They remained in this location for a few years, until 1869 when a priest was sent from Port Huron to develop a permanent parish in Lexington. The first pastor was Father P. J. DeSmedt, followed eight months later by Father Canters and three years after that by Father Christian Denissen, a priest from Belgium. Father Denissen remained for seventeen years. He purchased the property for a new church on the corner of what is now Main Street and Denissen Street. In 1880, he began building the church. When it was completed in two years, it was named St. Denis and dedicated by Bishop Borgess on July 12, 1882. There were only 16 Catholic families at the time, but many Protestants in the village generously contributed to building the Church.
In 1891 St. Denis Church became a mission to St. Patrick in Croswell until it was re-established as a parish by Bishop Stephen S. Wosnicki, the second bishop of Saginaw. Father Alpha LaHaie was the first pastor of the newly re-established parish. Nine pastors later, we come to April, 2013 with Sister Maria Inviolata as the first pastoral administrator.
History of St. Mary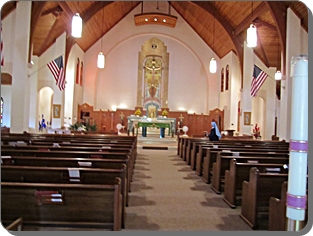 St. Mary owes its origin from both St. Patrick and St. Denis Churches in the early days. The early pioneer priests started a mission in the Carsonville area. Father DeSmedt was assigned to the Mission of St. Mary in the hills east of Carsonville. From 1872-1889, Father Denissen from Lexington served the mission. After his transfer to Detroit, Father Walsh served the mission of St. Mary from St. Patrick in Croswell until December 4, 1945, when Bishop Murphy, the first bishop of Saginaw established St. Mary - Carsonville, as a parish and gave it a pastor of its own: Father Herbert Zacharias.
In spring of 1950, the church building was moved from the hill by the cemetery to its present location and has since become known as St. Mary of Port Sanilac. Ten pastors have succeeded Father Zacharias and Sister Maria Inviolata was named the first Pastoral Administrator of St. Mary Parish on October 8, 2010.
History of St. Patrick's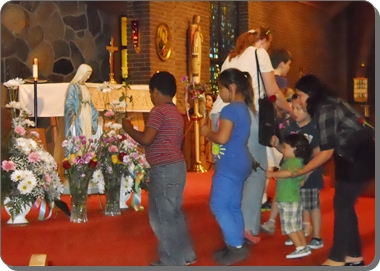 In 1890, when Father Denissen was transfered to Detroit, Father James Walsh was assigned pastor of St. Denis. In 1891, Mr. Mills gave the bishop of Detroit a tract of land in the town for the purpose of a new church and rectory. to be erected. The congregation of Lexington had diminished due to the end of the lumber industry and the railroad from the south that went through Croswell. Croswell became a thriving farming community and a new parish, St. Patrick, began in Croswell.
After Father Walsh had moved and begun this new parish, St. Denis became a mission church with one Mass a month on Sunday. Croswell became the center of Catholicism and the surrounding missions were serviced by priests from St. Patrick. These missions included: St. Joseph in Sandusky, St. Mary in Carsonville, St. Denis in Lexington, St. Lawrence in Jeddo and St. John in Peck. As the farming community expanded, so too did the Church. St. Patrick flourished. Since Father Walsh, the founding pastor of Irish descent, twenty-two priests have served as pastor. For the last nine years, St. Patrick was serviced by the pastor of St. Denis in Lexington.